Holiday Gift Guide for the Bibliophile in Your Life
It's the most wonderful time of the year, my friends, and you know what that means, right?
Sugar cookies, mistletoe, eggnog… and a whole lot of gift giving.
The thing is, I'm kind of over giving just "things" to people anymore. Sure, I love to watch my family and friends rip off the wrapping paper and squeal with excitement… until they move onto the next gift.
And the gift after that…
And then before you know it, the gift they had.to.have is shoved somewhere in a closet, and it's as if it never happened. I'm DONE with it. This Christmas, I'm making the rules on what a truly amazing gift is- and it might be things they never even knew they needed (but will love!)
This is officially your seal of approval to toss the commercialized clutter- and give the gifts that truly matter.
I know what you're thinking: but what? <<—– You didn't think I was going to leave you hanging out to dry, did you?
Just because we're not gifting out of a glossy magazine from a big box store doesn't mean the gifts have to be any less amazing or inspired. I put together my perfect Holiday Gift List for the bibliophile in your life to get you started…
Wait… Biblio-what?
You heard it right – bibliophile – and we all know one or two… I'm talking the ultimate book lovers in your life.
For the husbands that geeks out on hobbies…
For the powerhouse best friends that are up-leveling their business…
And for the kids who love getting a box of snail mail just for them…
You're going to love giving them, just as much as they'll love receiving them- and I promise these won't end up in a dark closet somewhere!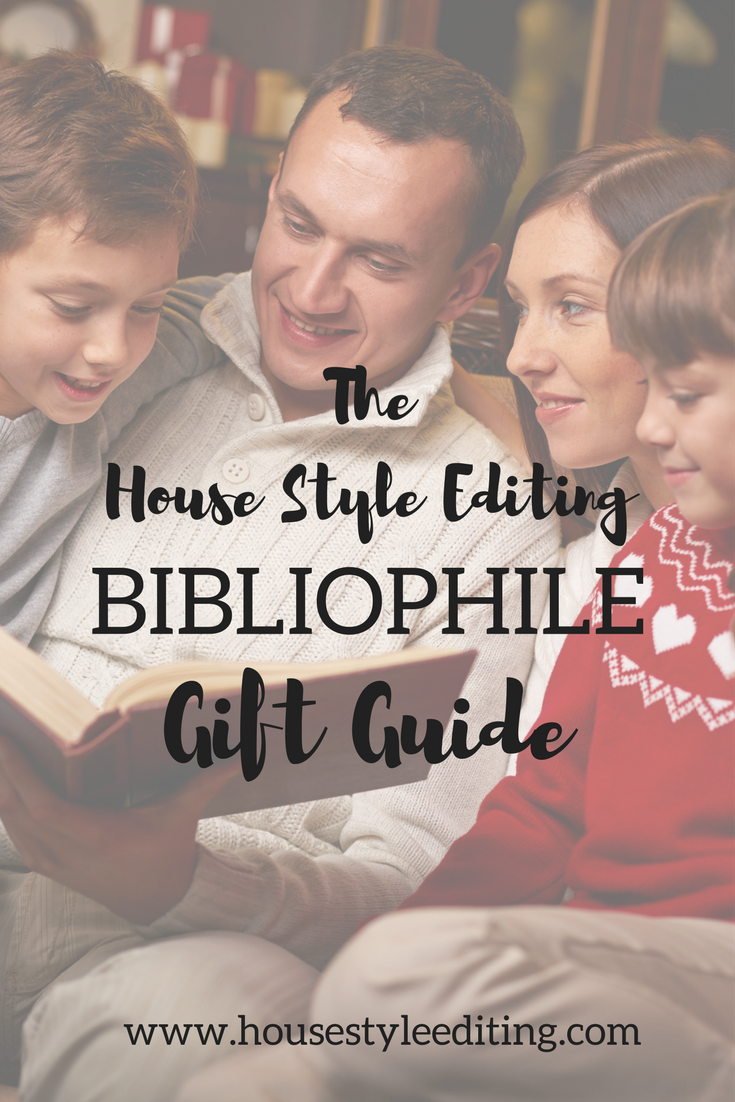 ★·.·´¯`·.·★ The House Style Editing Bibliophile Gift Guide ★·.·´¯`·.·★
Subscription Boxes

Remember when you used to get something in the mail that wasn't a bill? The excitement, joy, and anticipation of opening a letter marked just for you? Well, thanks to subscription boxes those feelings are flooding back- and there's a little something for everyone!
Sparkle Hustle Grow
Ideal for any woman in your life, the Sparkle Hustle Grow subscription box delivers motivation, passion and the perfect mini gifts you never knew you needed (but now can't live without). Created by Julie Ball, author of The Happy Hustle, this subscription box is especially a must for any female entrepreneurs in your life. I know you're excited, so grab $5 off your first month with coupon code: HOUSESTYLE now!
The Intentional Book Club
Raising strong, kind and positive children is an every day job for parents across the world- and with The Intentional Book Club founded by Samantha Munoz, author of The Intentional Bookshelf, you can design a mini library in your home to truly raise your children with the family values you want in their lives.
Once Upon a Book Club
With both youth and adult options you can quickly check a few people off your list as the Once Upon a Book Club helps to bring books to life right before the reader's eyes… or rather right inside the book itself. Adding to the excitement of new adventures to discover are the tiny gifts hidden within the pages throughout the story, letting the experience take the reader to a whole new place. Don't forget to use HOUSESTYLE coupon code for 10% off!
Book of the Month
As adults it's hard enough to find the time to sit down and read, let alone pick out a new book to fall in love with. With the Book of the Month subscription box the guesswork is taken out of the equation, sending you a best seller every month. With the first month free, it doesn't get any easier to do exactly as the say: love.repeat!
Uppercase Box
I dare you to find me something cooler for a young adult bookworm than having their favorite books signed, sealed and delivered. With the Uppercase Box that's exactly what you get- every monthly box includes a signed first editionof the best YA book of the month along with high-quality and practical book-related items.
Comic Boxer
From Marvel to DC and everything in between, the Comic Boxer subscription box is the quintessential gift for the kids or teens in your life that can't get enough of their favorite action heroes.
Lillypost
Made with love for children of all ages, Lillypost sends hand wrapped books to your little ones each month, complete with an extra surprise or two. From board books for the tiniest of fingers to curated books as they grow, Lillypost fuels every kiddos love for reading.
Sol Book Box
Que maravilloso! Sol Book Box is the perfect way for parents to continue embracing and encouraging reading in Spanish each month, while raising bilingual children and celebrating their heritage.
Grammarly
We all have those friends who simply can't spell, right? Even the word unicorns in our lives tend to get hung up on a particular word or two… until now! Gift anyone and everyone the gift of grammar with a subscription to Grammarly this year.
My Reading Adventures and My Life In Books Journals
The My Reading Adventures and My Life in Books kid's reading journal, created by Tracy Babler, who co-hosts the podcast Lu and Bean Read with her two daughters, offers children space and prompts to write, draw and reflect on a year's worth of reading. The journal allows kids to record 52 books—one for every week of the year—as well as completing several fun writing and drawing exercises. Designed for kids of every age, they are given the option of drawing and/ or writing to spark their creativity.
Business Books
And PS: these are amazing books I've had the honor of editing!
Boss Mom & Confessions of a Boss Mom by Dana Malstaff
If you don't know… now you know: Dana Malstaff is at the top of her Boss Mom game and sharing her secrets. With both of these books, readers get a deep look inside at the balancing act of raising babies and businesses at the same time. Complete with contributions from other amazing women doing the same thing- in their own ways- these books will inspire readers to tackle all their passions in life.
Clone Your Best Clients by Heidi Thompson
Do you have a creative entrepreneur in your life that would LOVE to have the dreamiest of clients over and over and over again? If so, you must gift Clone Your Best Clients with them STAT to keep the best of the best (and new ones just like them) coming back for more!
Self-Help & Personal Growth
Fiction
The Eyes Have It, The Heart Knows It and The Soul Believes It by Julie Allan
Follow Lizzie Long through all the drama as she navigates struggles, secrets and resilience in the Lowcountry of South Carolina. This is the trilogy to share with any fiction lover that's been on Santa's 'nice list' this year!
Secrets: Spies, Lies & Criminal Ties by Alan Eysen
They say don't judge a book by its cover, but when it has "spies, lies and criminal ties" you're bound to be entranced in this action suspense novel! I can already see the wheels turning- you know exactly who would devour this read, don't you?
Hobbies
Alex's Table Cookbook
I'm talking Giada DeLaurentiis, Marcus Samuelsson and Tyler Florence here people! This cookbook has the cream of the crop in the celebrity chef world and best of all… it's all for an amazing cause! Alex's Table Cookbook donates 100% of the book proceeds to Alex's Lemonade Stand, a non-profit on a mission to stop childhood cancers once and for all!
The Ultimate Guide to Tarot Card Meanings by Brigit Esselmont
Known as the "only guide to tarot card meanings you'll ever need"- Brigit Esselmont delivers a comprehensive understanding so that you can dive into interpreting everything from relationships to finances to health. Plus, each card is complimented with an inspiring quote, helping you to conceptualize your reading and motivate yourself into action.
Peach State Precision: The Sportsman's Guide for Hunting Georgia Whitetail Deer by Nathan Dallas
Calling all hunting enthusiasts- this is the gift that will win the holidays! Let Nathan Dallas guide your favorite outdoorsman through the thrill of trophy hunting while teaching must-know expertise and discipline along the way.
I'd love to know what bookish things are on your wishlist this holiday season!